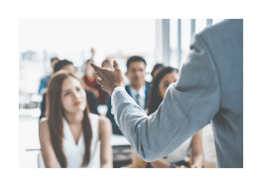 The Chamber provides many opportunities throughout the year to highlight speakers for our 1st Fridays – Building Business Over Breakfast series, the Economic Development Lunch & Learns, and our Quarterly Chamber Breakfasts.  Our speakers have entertaining, engaging keynotes rooted in educational messages. Some come to us with a lot of experience, and others have no professional speaking experience.
We're looking for speakers who will get our chamber members excited and engaged, and they come in every shape, size, age, color, and perspective. It's about the value of the message and your unique, authentic ability to deliver it.
If you would like consideration for future speaking opportunities, please fill out the attached speaker application.  We accept applications throughout the year.